Lecture about Experiments on Micro Behavior to be Held in RUC
He Haoran, Ph.D. in Economics from the University of Gothenburg, Sweden, and a Distinguished Professor at Beijing Normal University., will give a lecture entitled "How Many Others Apply for the Jobs I Am Applying for? The Effect of Perceived Labor Market Competition on Job Search" at 12:00-13:30 on Sep. 15.
The lecture will be hosted by the School of Economics, Renmin University of China (RUC). The lecture will be held in Room 734 in the Mingde Main Building and Miao Bin will preside over the lecture.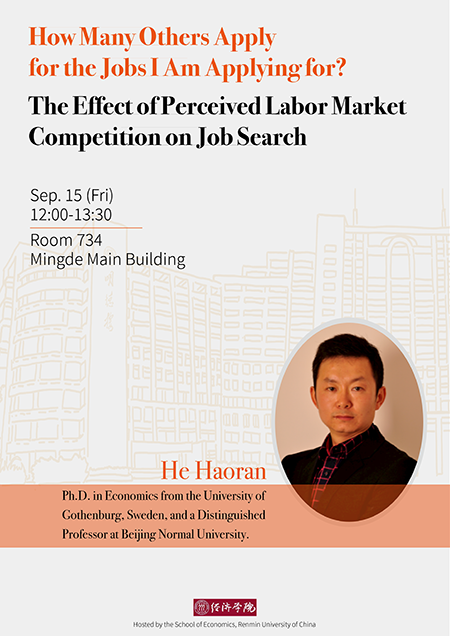 Abstract: Job seekers' expectations about labor market prospects are crucial in determining their search behavior and outcomes in search models, yet clear empirical evidence is lacking. We conduct a large-scale information-provision experiment on a job board to analyze the causal impact of beliefs about labor market competition on job search. We vary whether information about last month's applications per vacancy in the job seeker's preferred occupation is provided and whether a personal daily application goal is elicited. We document that job seekers have large misperceptions about competition. Being provided with information, job seekers update their beliefs about the upcoming month's competition in a way that is consistent with Bayesian updating. While we find that the intended search effort (goal) increases in beliefs, neither job seekers' real effort nor their tendency to switch to other, non-preferred occupations is affected by those beliefs. In contrast to the prediction from a sequential search model, we find that both the lowest wage offered (reservation wage) and the lowest required work experience among the jobs job seekers apply for in the month after the intervention increase in their beliefs. This surprising behavioral response is driven by currently employed job seekers, and can be rationalized by gambling for higher-quality jobs when landing a job becomes more difficult. For the unemployed, the reservation wage and lowest experience are rigid. We further show that neither this seemingly risky adjustment nor the rigidity affects their job-matching outcomes negatively.
Introduction: He Haoran's main research areas are behavioral economics, experimental economics, labor market, pro-social behavior, team decision-making, and public policy evaluation. His research results have been published on academic journals such as Economic Journal, Journal of Labor Economics, Experimental Economics, Journal of Economic Behavior & Organization, Social Choice and Welfare, Journal of Economic Psychology, Economics Letters, China Economic Review, and so on.